Guilloché engraving was traditionally used for decorating personal items – ranging from watches to jewelry, lighters and powder compacts. Today, it is highly prized for its versatility, as it allows for the decoration of a multitude of everyday objects, from home décor accessories to furnishings. With its spectacular light effects and interplays of volumes, it turns every piece into a unique creation.
Offering endless variation and customization options for motifs and patterns alike, handcrafted Guilloché is a symbol of design excellence.
Actually, Guilloché is a real asset for Italian design in many manufacturing sectors.
This extremely versatile handcrafted surface decoration and finishing process may be used on basically any "hard" material. Originally, noble and non-noble metals were the material of choice for this art form, but also ebony, briarwood and acrylic materials are an amazing canvas for Guilloché. It creates inimitable effects, giving life to truly unique pieces.
That is why the Renzetti 1909 laboratory is at the service of designers and companies operating in all sectors.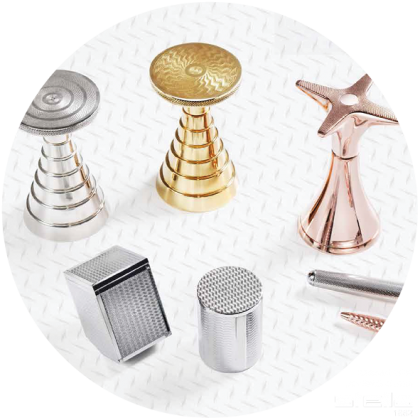 MATERIALS FOR GUILLOCHÉ ENGRAVING
SILVER, GOLD, PLATINUM
STEEL, IRON, TITANIUM
ALLUMINUIM, BRASS, COPPER
EBONY, BRIAR-ROOT
ACRILIC GLASS, HARD PLASTICS